1967
The stocky man who met me at Dargaville bus stop introduced himself as Maurice Fitchett, senior master at Dargaville High.  During my so-called teacher training course in Auckland I had already picked up the post-colonial feel of New Zealand secondary educational system, but that brief experience had not prepared me for Maurice Fitchett, nor, as it turned out, for the disciplinarian culture of schools such as Dargaville High. I have to admit that I was taken aback. Elsewhere this was the swinging sixties, but even though horses had been replaced by cars in Dargaville main street, Maurice, both in appearance and bearing, could easily have been cast in a period movie set in the 1860s.
Actually he didn't say a lot on that occasion; he had been delegated to meet me off the Auckland bus and take me up to Dargaville High School, to be interviewed for a job as a French and English teacher. Understandably he wasn't giving much away. But as meet-and-greet exercises go, it left much to be desired. Some corporate pride and enthusiasm might not have gone amiss, and when I was ushered into the headmaster's study I was probably a bit disconcerted, which may have been deliberate I guess.
Fortunately the mood changed for the better when headmaster George Ball and I got down to the business in hand. We got on like the proverbial house on fire.
Looking back, I can understand how they might have had reservations about me. My CV was pretty good, I had an honours degree in French from an English University and I had actually lived and worked in France. On the other hand I did have quite long hair and looked a bit like a Beatle, complete with droopy moustache, and there was no mention of sport on my record, let alone the magic word rugby. A serious omission in the land of the All Blacks. (What I could not have known was that a few weeks later I would be teaching English grammar to a future All Black, Eddie Dunn, an amiable lad who was to represent his country as a fly half twenty times between 1978 and 1981. Obviously I played no part whatsoever in his sporting career.)
Imagine my surprise when after quite a short conversation with this likeable man, himself a former French teacher, I was offered the job. No quibbles and when could I start?
My main concern about working as a teacher in New Zealand at all was my abhorrence of corporal punishment, which I had discovered in Auckland was endemic to the national secondary school system. My revulsion was, and still is, rooted in my own memories of primary school in London, where I was routinely caned by a teacher who really believed it was good and necessary to cane boys. This emotional reaction was reinforced later by rational argument when studying moral philosophy at University. Put simply, it's child abuse. (It was not made illegal in New Zealand until 1990. Now a teacher who resorts to corporal punishment can be found guilty of physical assault, resulting in termination and cancellation of teacher registration, and possibly criminal charges, with a maximum penalty of five years' imprisonment.)
I didn't notice any canes in the headmaster's room, nor did I hear any thwacking noises-off or cries of pain from outside. George seemed genuinely friendly and keen to have me on the team, so I suppose my worry about caning was not foremost in my mind. On reflection I suppose I rationalised by vowing never to practice it myself, and hoping that I could perhaps campaign for reform.
After a pleasant lunch and a stroll around the school, we agreed that I could have a few days to think about the job and talk it over with my wife. I met a few teachers in the staff room (still no canes), but didn't get a chance to meet any students. Any I did see from a distance seemed happy enough I guess – no signs of distress, just a pretty normal bunch of kids behaving normally, in the sunlit setting of a Northland school.
Still aware of the inherent absurdity of teaching a European language to kids ten thousand miles away from Europe, and not a little intrigued by this remote and evidently backward part of New Zealand, I felt optimistic as I stared out of the window of the bus rattling its way in a cloud of dust back to Auckland. Country service was part of the deal, the climate was sub-tropical, the town was near unspoilt beaches, and the headmaster seemed like a nice bloke. On balance it seemed like a lucky break, totally consistent with our original aim to have a good time for a couple of years somewhere a long way away from the UK. As it turned out, most of my optimism was justified, at least to start with.
A few weeks later we left our rented flat in Mount Eden and moved north to Dargaville, initially to lodge with Mr. and Mrs Fitchett until a house or flat could be found. At home Maurice dropped his stern outward persona a bit, and his large blousy wife treated us like royalty, set on introducing my wife Margaret to the cream of Dargaville polite pākehā (white colonial) society. It was the stuff novels are made of, including a budgerigar who flew around the house at will and delighted in bombing the table at mealtime. On one occasion Mrs F invited Margaret to some women's event, with the instruction "Bring a Plate". On the day she duly turned up. With a plate. It was deftly removed to avoid embarrassment. "Bring a Plate" is NZ code for bring some food to share around.
Fortunately a semi-detached flat was soon arranged by the school, in Campbell Terrace, within easy walking distance, down in Mangawhare by the former commercial area next to the Northern Wairoa River, not far from where the excellent Dargaville Museum stands today.
In fact it was half a house owned by a local accountant, who lived in the other half. It had almost all we needed and the rent was only a few dollars a month. Peanuts – probably because there was no inside toilet or public sewerage. The surrounding low-lying area was unsuitable for connection to the mains, or for septic tanks. Instead we had an outside "dunny" and our waste was collected by the "nightsoil" truck. The school was rather apologetic about this, but it seemed to be the only option as we did not qualify for a school house because we had no children. However, Meryl the landlady was lovely, and the neighbours were nice, the sun was shining and it seemed like home until something better came along.
We had no furniture, and no car, but fortunately there was the local auction mart which sold second-hand furniture. I remember us wheeling a bed frame along the main street from the mart to the house, an event which apparently became something of a legend in the town and did much to create rumours of pot-smoking pommy hippies down on Campbell Terrace. (It's perhaps an irony that when I went back to Dargaville with my daughter Louise in 2000, we discovered that the area was by then infamous as the illicit cannabis growing centre of the North Island.)
We were then introduced to the delights of Baily's Beach, ten minutes drive from Dargaville. Back then it housed a rather bohemian beach community of colourful baches – AKA seaside cottages – whose residents included at various times some of the high school teachers, notably Paul Dibble, the art teacher, who built a very scary high-octane kiln in the garden to melt bronze for his sculptures. He's now an internationally famous sculptor based in Palmerston North, and he was the co-creator of the New Zealand War Memorial in Hyde Park, London, unveiled in 2006. Paul was the tallest teacher at the school and I was the smallest, so we used to deliberately stand together on stage at assemblies, just to amuse the kids.
In those days the beach was quite wild, mainly visited by sea fishermen and surfers, but now there's a campsite and a motel. According to the local website blurb you can "Encounter sea birds and the feeding holes of the endangered Toheroa shellfish, pick bi-valve Tuatua, wave at fishermen netting for mullet or flounder or long lining for kingfish, kahawai and snapper; at low tide pluck green lipped mussels from the rocks at Maunganui Bluff at the northern boundary of Ripiro Beach." I'm not at all sure that waving at fishermen was ever a good idea, and we never quite got the hang of the Toheroa thing, but we did spend quite a lot of time out on the wide, seemingly endless beach, just breathing in the Tasman ozone and watching the astounding waves thundering in as they ended their thousand mile journey from Australia.
I also remember vividly the day when some of us helped our rather excentric young music teacher haul his piano up the dunes when he moved into his rented bach.

We were happy in Mangawhare! The sun kept shining, we were welcomed by my colleagues and their families and I had no problems with the kids at school. I turned a blind eye and a deaf ear to the canings, many of which were administered by zealous male teachers at the behest of female teachers. I even started renovating colonial antique furniture for the auction mart in my spare time, some of which we kept for ourselves until we came back to the UK in 1973.
One day the one-and-only Dargaville policeman turned up at the school to give the kids the annual pep-talk at morning assembly. As you might expect this was as boring for the teachers as it was for the kids, but we had the added problem of looking suitably serious on stage. However, I found it very difficult to keep a straight face when the officer got to the bit about bad behaviour in public. His final warning was "And there'll be no yahooing in the main street!". This ludicrous  threat has stuck in my mind ever since. I had some further dealings with him because my international driver's licence was about to expire, so I applied for a New Zealand test, for which he was responsible. In the event he just asked me to drive up a back street and then stop. That was all – none of this reversing around a corner or emergency stop malarkey. His judgement was "Well, you can obviously drive OK mate." A few days later I crashed into another car because I didn't understand the priority rule at junctions.
Then one day one of the teachers mentioned he had heard about a house out of town coming up for rent, right on the northern bank of the river.  He gave me a note of the landlord and location, identifying the house simple as Dermy Hackett's place. By then I had bought a van from another teacher, and I set off to find the house in a tiny settlement between Dargaville and Te Kopuru called Aratapu. At first I could not find it so I stopped at the Aratapu Pub to ask about the whereabouts of Dermy Hackett. Everyone in the bar fell about laughing; Dermy Hackett was the man who floated the house up the river in the 1800s.
When I did locate Dermy's place it was love at first sight, smell and sound. The reason I had missed it was because it was entirely surrounded by an overgrown orchard. This was high summer and the moment I parked up I was stunned by the intense mixture of perfumes created by an extraordinary variety of ripe fruits, and the noise of a thousand bees. Good for old Dermy Hackett.
It turned out that this idyllic farm cottage was a former sharemilkers home, then owned by a farmer generally reckoned to be bent on death by drink and agriculture. This did not trouble us, especially as he was only charging $8 NZ a week, but later his negligence brought about the destruction of the orchard when he forgot to shut a gate and let in a herd of hungry cattle.
This house did have an inside toilet, but no connection to a public water supply. It was served instead by a giant water tank fed by rainwater from the roof and a  pumped supply from a nearby spring. It was far too big for us, so our first move was to lock a few doors and forget what was behind them. It was quite neglected anyway, so, having moved in, the second move was to clean it up and decorate. Actually we had no choice, as a gang of schoolteaching mates insisted on doing a weekend makeover, including sanding and sealing the beautiful old Kauri floors and painting just about everything else. All we had to do was to ensure an appropriate supply of beer from the pub, food, materials and project management. Such is the Kiwi way.
Apart from the shenanigans of our mostly absentee landlord, life in Aratapu was sweet.
Margaret by this time was happily working as a sister in the hospital, adored by patients and staff alike. When things got busy up there I occasionally pitched in as an unofficial porter after my own day at the school had finished. Once when I went to pick her up she was in a bit of a state because a huhu bug had flown in when she was on the toilet, and got tangled up in her hair, which she wore long in those days.
Huhu bugs are big longhorn beetles endemic to New Zealand, not to be messed with.  They tend to fly into things, including people. You usually hear them before you see them because they have a very low-frequency wing beat, a bit like the drone of a miniature Lancaster bomber. They also bite.  Huhu grubs are a Māori delicacy, hooked out of holes in trees and swallowed live. Never tried it myself.
In my spare time I took up wood-turning. One snag – no lathe. I couldn't have afforded one, so I built my own, using a washing machine electric motor, an RSJ and various bits and pieces. It worked fine, and I made my own tools as well.
The only surviving product is a small kauri jewel box, still in use today. Later I made a colonial style high chair, but that's long gone. Reluctantly I had to leave my beloved lathe behind when we returned to the UK, but I plan to have another go at wood-turning some time.
Here's how Dargaville's Rick Taylor does it:
We did have a few disasters of course, like the time when our three sheep, otherwise known as animal lawnmowers, managed to get in the back door and rampage through the house while we were out, leaving nasty green marks down the hall. We found out when we came home and opened the front door. We saw (and smelled) the damage after they skidded around on the polished kauri floor desperate to find a way out.
I say "our" three sheep – actually they were on loan from a friendly farmer, who as it turned out had a wicked sense of humour. He had assured me that the sheep would not wander from the garden, which was fenced on two sides, with ditches on the other two. According to this humourist disguised as an honest farmer, they would not jump the ditches to seek pastures new, but what he didn't mention was that they were a hand-reared family, mummy, daddy and baby lamb, detached from a flock, cunning as they come and used to human behaviour.
Within a week we were getting calls from various amused neighbours to fetch them from whatever paddocks they were in. Evidently the news of this merry jape had got around. They did keep the grass down, but I was nonplussed as to how they got out, so one day I staked them out as they grazed. They gradually wandered nearer and nearer to one of the ditches, maybe two metres wide, then as if a whistle had blown daddy sheep simply jumped over, turned around and gave the signal to mummy sheep, who then jumped over and summoned baby lamb who did the same, and off they all  trotted. I rang their owner and said OK mate, the joke's over – please find them and don't bother bringing them back.
So we borrowed a proper lawn mower and celebrated with a roast lamb Sunday dinner.
Disposing of domestic waste was another problem, and we were advised to incinerate what could be burnt, using petrol to start the fire. It worked fine until one specially hot day I managed to blow myself up when Margaret was away working at Dargaville hospital. I had no choice but to drive myself there; when I arrived, singed and minus a lot of hair, she was more embarrassed than anything as my burns were treated. Never tried that again.
At the time I was only faintly aware that Aratapu had in days gone by been a major ship building and repair yard on the Northern Wairoa river, serving the wooden sailing ships that sailed between England and New Zealand in the nineteenth century. The first Kauri timber mill built in the Northern Wairoa was on the banks of the Aratapu creek around 1865 and there was even a school in the township, probably up to the 1930s. A Māori church was opened in 1890, and there's an intriguing painting in Auckland Art Gallery titled Ruka Aratapu.
The same historical ignorance also went for Dargaville, Te Kopuru and the entire Nothern Wairoa area, whose colonial history is bound up with kauri forestry, gum digging, and Dalmation immigrant workers. The kauri is one of the largest, oldest and most impressive trees on Earth.Trees can normally live longer than 600 years and many probably exceed 1000 years. Despite indiscriminate felling and logging by the pākehā (white men) which started around 1820 and lasted for a century, the highest number of Kauri trees today are to be found in the Waipoua Forest, near Dargaville.
Much of the felled timber was bound for Great Britain. Between 1821 and 1841 The Royal Navy sent four vessels to gather kauri-wood spars. By 1900, less than 10 per cent of the original kauri had survived. It has been estimated that before 1840, the kauri forests of northern New Zealand occupied at least 12,000 square kilometres but by the 1950s New Zealand kauri land area had decreased to about 1,400 square kilometres in 47 forests depleted of their best kauri. It is estimated that today only 4 per cent of uncut forest remain. Estimates are that around half of the timber was accidentally or deliberately burnt. More than half of the remainder had been exported to Australia, Britain, and other countries, while the balance was used locally to build houses and ships. Much of the timber was sold for a return sufficient only to cover wages and expenses.
The most famous remaining kauri trees  are Tāne Mahuta and Te Matua Ngahere in the Waipoua Forest, where they are now tourist attractions.Tāne Mahuta, named after the Māori forest god, is the biggest existing kauri on the planet and is the main attraction in Trounson Kauri Park, 40 km north of Dargaville. Most of the forest was gifted to the Crown by James Trounson, an early settler, and the park was officially opened in 1921. If you visit New Zealand, it's a must-see. When we lived in Dargaville it was a hard ride to Trounson over unsealed tracks, but now, with the phenomenal growth of tourism, it's no longer a white-knuckle drive.
Kauri timber was a popular wood for construction and ship building because of its size and strength. It was particularly suitable for the masts of sailing ships because of its parallel grain and the absence of branches for much of its height. Kauri is also a superb timber for building the hulls and decks of boats because of its resistance to rot.
In the late 19th and early 20th centuries kauri gum (semi-fossilised kauri resin) was a valuable commodity, particularly for varnish, spurring the development of a gum-digging industry. The workforce who extracted kauri gum were known as diggers, and many of them were migrant workers from Dalmatia (a former region of Croatia) – transient workers, rather than settlers. Much of their income was sent out of the country, resulting in resentment among the local workforce. Many Dargaville families today are descendants of the Dalmatians, as I found out on day-one at the school, calling the register. Babich, Rakich, Marinkovich etc…….. anglicized versions of Babić Rakić, Marinković.
Shortly after this post was published James Brackenbury kindly drew my attention to a splendid film he edited in 1994, called  Dalmation at Heart, made for NZONSCREEN. Recommended viewing!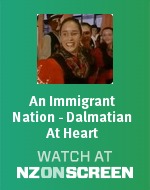 ×
Later, we were invited to what was locally known as the Yugoslav (or , affectionately, the "Dally") Ball. Descendants of the gum diggers in beautiful traditional costumes Kolo danced to a traditional Tamburica Band.
Here's how they do it back home:
Even later I came to realise that the Dalmations were a force to be reckoned with in the social, commercial and political life of Dargaville. And I expect they still are. They also have a well deserved reputation as wine makers – something else I found out when some of my students nodded off in class after lunch……
When I started at the school I was puzzled about how relatively few Māori students there were. Those I came across were usually decent kids, but I did feel that some others had chips on their shoulders. I never had time to find out why at the time, especially as my pākehā colleagues didn't seem keen to discuss the subject. I was told that the local hapū (sub-tribe) was pretty low down the ancestral Māori pecking order, but I can find no evidence of this. From what I could make out, some of the Māori students did come from poor homes and did not mix much with pākehā kids. Ring any bells?
I was told that our Māori students belonged to the Ngāpuhi iwi (tribe), the largest tribe in New Zealand, whose territory stretches from the Hokianga Harbour to the Bay of Islands, and to Whāngārei in the south. However I also read that by the time of European settlement in New Zealand, the area around the Kaipara Harbour belonged to the Ngāti Whātua iwi. It also seems that before European settlement, the area was called Kaihu and the modern township is named after an Australian merchant Joseph McMullen Dargaville, who bought the Tūnatahi block of land from the local Ngāpuhi Chief Parore Te Āwhā and others in 1872.
Now that name rings a bell; one of more memorable Māori students on my register had the surname Parore. I think if we had stayed longer in Dargaville I might have become very interested in the history of the Māori people in Northland and their contemporary situation, which seemed not to be of much interest to the pākehā population. Or perhaps they just didn't want to talk about it. At any rate my limited experience with some of our Māori students did seem to me at odds with the reputation of New Zealand as an enlightened post-colonial society characterised by racial harmony, an image later challenged by the book and film Once Were Warriors.

Sometimes I think that during my time at Dargaville High, despite my best efforts, I learned more from my students than they learned from me. Like the first time it rained. Nearly all our students were bussed in from outlying areas, and the bus times were sacrosanct. When it came to home time, my class seemed to be reluctant to leave, so I asked what the problem was. They told me I had to give them permission to take off their socks and shoes, so I did. Going barefoot in the rain to save unnecessary washing and drying made obvious sense. Kiwis are above all a practical people. (Many New Zealand kids are brought up barefoot anyway. For a year or two after we returned to the UK in 1973, my elder daughter Madeleine hated wearing shoes or socks.)
I suppose I gradually got used to the fundamental futility of teaching French, even though some of my first year class did seem to enjoy the novelty – up to a point, and my sixth formers were highly motivated. I have checked out the current curriculum and I'm gratified to see that the two language options are now Māori and Japanese. There was one notable exception; someone asked me if I would run some French conversation evening classes for adults. Ever eager to please I said OK, and I was amazed at the response. It was tough going to gather my wits after a day teaching at the school, but I discovered how satisfying teaching can be when learners are highly motivated. A delightful, if exhausting, experience, which I suppose helped me years later when I went into the training business.
Then disaster struck. The idyll came to an abrupt end when the avuncular George Ball had the nerve to retire, only to be replaced by new head who came across to me as a narcissistic, arrogant, charmless, posturing, pro-caning bully by the name of Keith Dewhurst, fresh from playing the white colonial master in Sarawak. As you can tell, I didn't like him much.
The dislike was, as it turned out, mutual. For a while I thought I might get away with giving him a wide berth, but he was gunning for me from the start because I refused to cane, which I know some of my disciplinarian colleagues resented. It must have grated with the thwackum tendency that I never had discipline problems. He tried reasoning, then when I still refused he tried direct threats. His final ploy was to claim that though he could not officially order me to cane, or even sack me, he could make my life a misery and ensure I never worked in New Zealand secondary education again.
I suspect also that he resented my minimal approach to sport. Because I was English I had been automatically assigned to manage the school soccer team, as they called it. I made no secret of my lack of ability or knowledge of what we call football, but I was quite happy to do what I could to help any boys who wanted to play. Actually the school already had a good team, and they did win matches. Basically I was their driver. (We even started a girls soccer team, which consisted predominantly of large Māori lasses who couldn't  understand that soccer isn't like rugby, which was what they really wanted to play. So by default they simply charged up and down the pitch doing as much damage to each other as possible. I kept well out of the way and hoped nobody would be seriously injured. They had a lot of fun and they kept me in stitches into the bargain. Maybe we were ahead of our time. The team didn't last long.)
Dewhurst's threats were all bluff of course, but quite soon other members of staff were leaving because they didn't like the new regime, and I saw no merit in hanging around on my own much longer. Of course the students knew what was going on; I recall one outspoken sixth-former complaining to me about some new petty edict from central control: "They might as well put up machine gun posts and have done with it." Spot on, Sheila.
The shame was that by this time I had settled into teaching and become really interested in education. I had signed up to do a postgraduate teaching certificate by distance learning at Massey University, and begun to form my own views on secondary education kiwi-style. Looking back, I think Dewhurst had got wind of this and may have read some of the stuff I was writing, particularly on democracy in schools and, of course corporal punishment – essays which I was invited to publish. Now I wish I had. (Years later I heard that Dewhurst's wife had left him for a younger model, and that he had died from a heart attack. Let that be a lesson.)
I was seriously thinking about returning to the UK, but then something totally unexpected happened. All because I met a man in the pub.
Postscript: While writing this memoir I came across an unexpected newspaper article, dated April 2016, about Dargaville High, headlined "Young teacher, 28, 'lived in constant fear' of her principal after she found him lurking in her garden late at night." The principal was named as David Bargh. George and Maurice must be revolving in their graves.
To be continued.
———————————————————————————————————
Dargaville (Wikipedia)
The old Māori name for Dargaville was Kaihu
Ngāpuhi -Te Ara Encyclopedia
Once were warriors (film – Wikipedia)
Dargaville High School
Corporal Punishment (Wikipedia)
Dargaville Museum
Kauri sawmilling and shipbuilding (Te Kopuru)
Dalmatia (Wikipedia)
Gum diggers (Wikipedia)
Matakohe Kauri Museum promo video
Kauri deforestation (Wikipedia)
Trounson Kauri Park
Huhu bugs (Wikipedia)
Dalmations making their mark 150 years on
Dargaville back in time – Facebook
Photos of the Kauri Coast
Ngati-Whatua iwi (Wikipedia)
Paul Dibble (Wikipedia)
New Zealand War Memorial in London (Wikipedia)
Photos of the Kauri Coast
Paul Dibble (Wikipedia)
New Zealand War Memorial in London (Wikipedia)